Journal Entry:
Fri Feb 3, 2012, 11:37 AM



Uni has been eventful in the last couple of weeks to the say least. One thing I can totally confirm is that one of my Lecturers is a rariety. Seriously, I've never met a lecturer/teacher generally interested and concerned for his pupils. It makes me wanna cry xD
I've managed to get a week extension on a project due to my anxiety popping up and being put back on medication. I don' think it's a bad thing though

My Mum has always said that I need anxiety tablets because my body hasn't the thing it needs to help ease panic and nervs. I was being stubborn and didn't want to go back on them, but after 3 weeks I decided it was best. Sometimes even mentally trying to push things away can make them worse and you need something to help you back up. I also have amazing friends who helped me and put up with my foolish ways <3 I've been told I need to stop thinking that I'm annoying people xD haha!

NOW, onto cosplay!
All the fabric has been bought for the Pokemon Gijinka's that I shall be making... gonna be a loooot to do! P:
I also finished Ash's jacket! Took me about 4/5 hours in total and quite a lot of stitching, unpicking and confusion. I don't think it looks too bad! Some of the seams are untidy, but that's because I haven't lined it so you can see them inside. But noone see's that >_<

I shall say it now, it IS big on me because it wasn't made for myself xD
The classmate I've been making it for is roughly the same size as me but he's taller.
* My flatmate tried it on but his massive muscely arms would barely fit through the sleeves xD *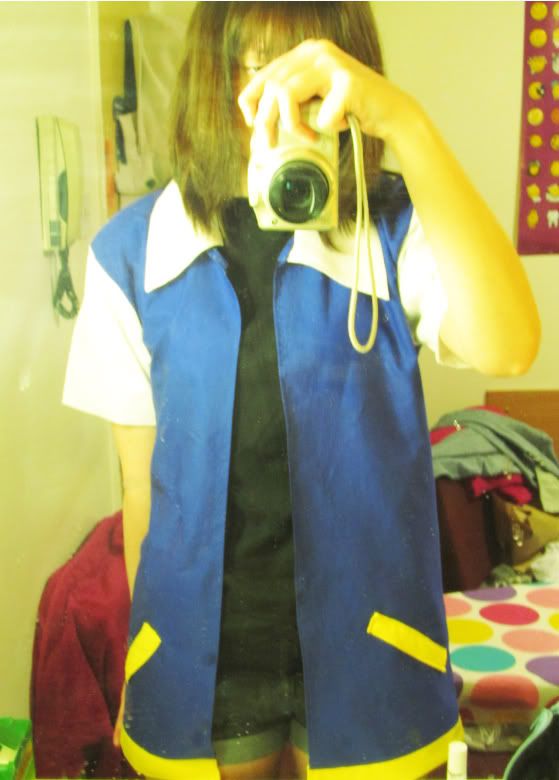 </a>

SO EXCITED TO BE COSPLAYING POKEMOOOOON <3
Onto costume planning for Pokemon and OoT now!



Hope your all doing okay!